Better your body on your own terms.
Improve your joint
health and mobility
any time, anywhere.
If you can't make it into our Christchurch-based clinic, our online classes are here to fill the gap. All you need to get started is an internet connection.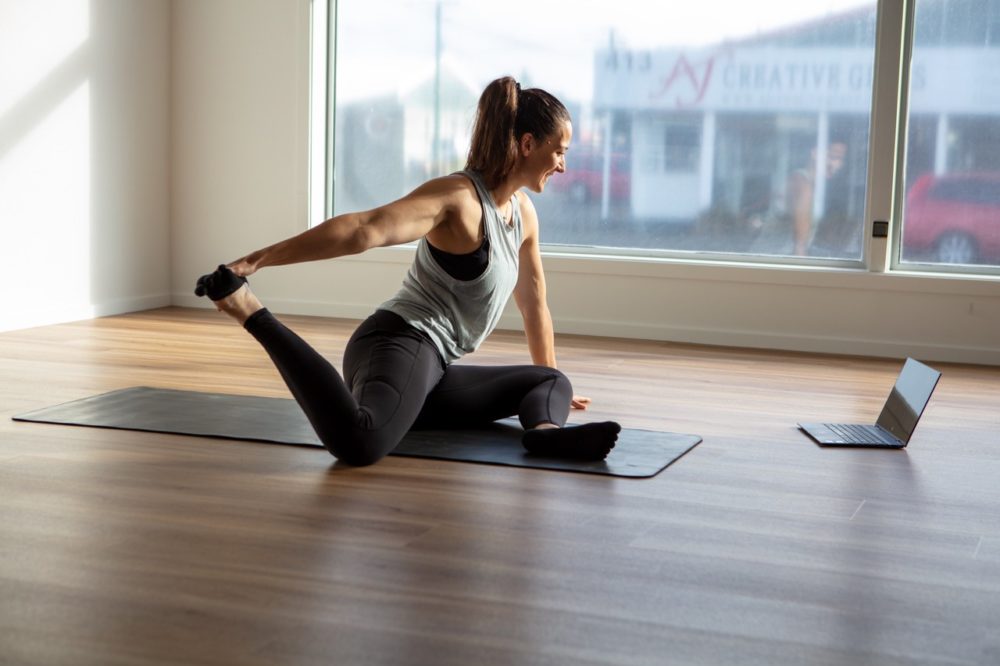 KINSTRETCH
®

Online

$69.95 /month

Our KINSTRETCH® online programme features a minimum of four 75 minute classes each month, which you can take in your own time and at your own pace. Our live classes start at $18 a session – which makes our online programme a cost-effective way to get all the benefits of KINSTRETCH®. Restore Prehab is New Zealand's most experienced KINSTRETCH® provider. So if you can't attend a live class at our Christchurch-based clinic, KINSTRETCH® Online is the ideal solution for you. For more information, check out our FAQs below.

Sign Up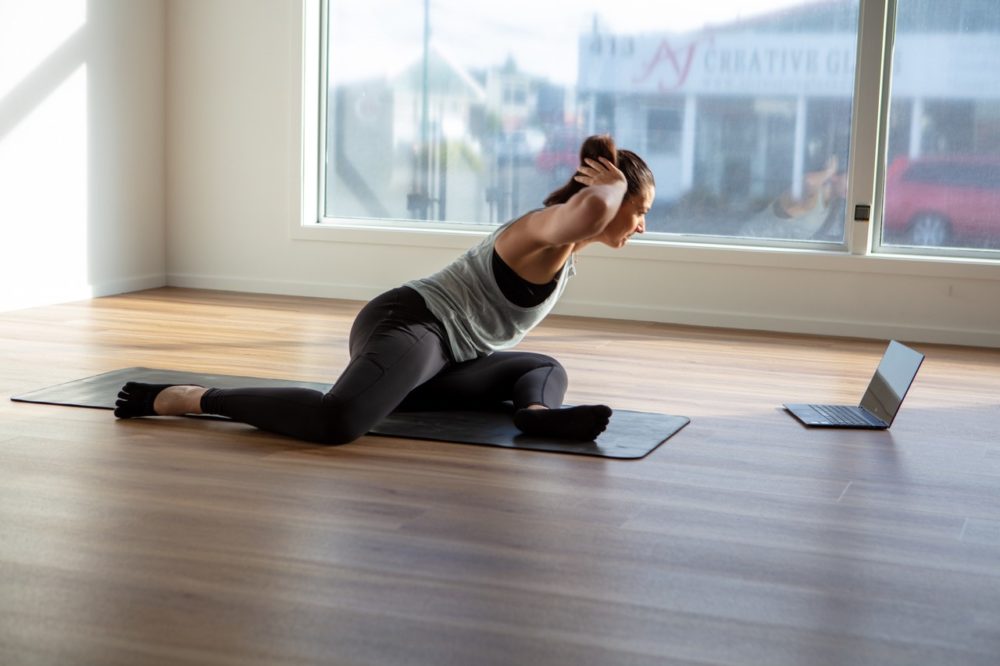 8 Week Core Fundamentals Series Online
$139.99
For a one off fixed fee of $139.99, you can access our in-house 8 Week Core Fundamentals Series. It includes a total of 8 classes, each ranging 50-60 minutes. We recommend completing one class each week. The Core Fundamentals Series is designed to help you gain a broad knowledge of what your 'core' actually is. It will explore your personal opportunity areas, take steps to polish them, and improve your overall movement patterns. Helping reduce those constant niggles, aches, and pains. For more information, check out our FAQs below.
Sign Up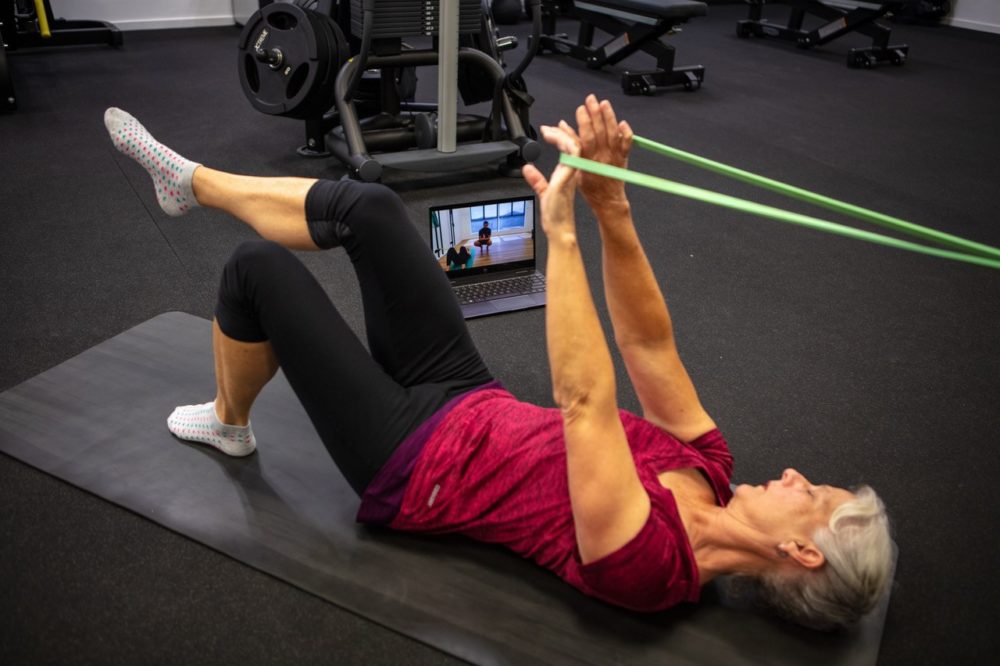 What our clients are saying.
"I have been a horse rider for 30 years and I have broken my back twice first in May 2019 second in July 2020. I had seen a traditional physio that I was referred to by ACC, but was still in pain everyday once physio was completed. Since working with the Team at Restore, I have been able to fully return to my normal life with manageable pain and the tools to know how to help alleviate the pain and carry on. My biggest win is just being able to get back to doing my day to day life and achieving some exercises in the gym that I'm sure I couldn't have done even before I broke my back."
- Rae Q.
"It wasn't magic, but through hard work and positivity (which Liv has enough of to go around) I can feel myself getting strong again for the first time in three years. I could not recommend Liv and the team at Restore enough. I had tried just about everything, nothing has got me back on track more than the care from this team"
- Waveney.
Make Your Move
Online Classes FAQs
You can cancel your subscription any time, via the user profile you create when signing up to through the app.

MONTHLY SUBSCRIPTIONS:
If you're on a monthly subscription, once you've subscribed, you'll have access to the platform right up to your renewal date. For example if you signed up on the 1st of the month, your subscription will automatically renew on the 1st of the following month. If you decided to cancel on the 10th of the month, you'd continue to have access until the end of that month. Then on the 1st of the following month, your card won't be debited, and your access to the content will be removed.

You can re-activate your subscription any time by signing in and updating your payment details.

ONE-TIME FEE OR PER-VIEW CONTENT: If you've purchased a one-off fee or per-view content, you'll have access to that content for the stipulated duration. Once the access period has passed, you'll lose your ability to view the content.

REFUNDS: For subscriptions, refunds aren't available for any part or whole unused months. This also applies to any one-time purchase fee or per-view content.

Our online classes usually feature an instructor taking a student through the class. In some cases there might be 2 students involved, depending on the drill. We find this is the best way to format these online classes, because it means you get to see and understand the differences between people's bodies, hear the verbal cues, see the tactile cues, and note the directional touch placed on their bodies.

Occasionally the instructor will also demonstrate drills and motions themselves. But on the whole, the classes will be conducted with the instructor coaching a student.

The online platform doesn't allow for downloads for offline viewing, which means the most important thing you'll need is an internet connection. Beyond that, there's little else you need – although there are a few things that will come in handy.

For KINSTRETCH® you generally don't need anything except yourself and a well-cushioned mat. However there are times where yoga blocks, tennis or lacrosse balls, and a stick will be useful. If you don't have any of those available, don't worry. There'll be an alternative option.

For 8 Week Core Fundamentals, you'll need a mat, a light resistance band, a foam roller, and a yoga block. For weeks 3 and 4 a partner would also be highly beneficial, but isn't totally necessary.

KINSTRETCH® Online classes are $69.95 per month. When you subscribe to our online platform, you'll be asked to enter your payment details (which are held securely within the PCIDSS-compliant platform). You'll then be charged each month, until you choose to cancel the subscription.

That's not a problem at all. In our live classes, we regularly see elite athletes and individuals with hip replacements working alongside each other. KINSTRETCH® truly is for everyone. The classes are designed to help you assess how your own joints are functioning, and then get you set up in your current end ranges of motion. They always feature a student being coached, so you can see the differences between the instructor and the student. This will show you how to vary the output to your available ranges of motion. The instructor will always coach how to get the most from each drill, and from the overall session.

KINSTRETCH® is Functional Range Conditioning's® solution to group training. When you improve the ranges of motion, freedom, and resilience of your joints, it's always going to improve your sport.

It doesn't matter if your sport is elite rugby, or running around after the kids. Using KINSTRETCH's® in-built self assessment tools to build your body awareness, you can reduce your pain and improve your sporting performance.

The short answer is, no. That said, if you have a new or acute injury (ie. less than 6 weeks old), then see our Restore Prehab physio first to make sure your injury is being properly cared for. If your injury is in your shoulder, hand, or elbow, you'll still be able to complete all the lower body / spine-focused classes. You can just exclude any upper-body work. Same goes if your injury is in the lower-body; you can simply exclude work targeting those areas.

If your injury is a few months old, you've seen your physio or other specialist, and you've been cleared to start light exercise again, then there should be no reason for you not to take the class. Just be sensible, listen to your body, and take it slowly.

Like all things Restore Prehab, the answer depends on your unique physical history, and future needs. A majority of students practice 1-2 times a week, once their body is used to the new form of physical stress and loading.

However, if you're undergoing an intense training regime (e.g. heavy weight sessions 5 days a week AND playing sport 1-2 times a week), then adding KINSTRETCH® on top may not be right for you – as it's another high threshold training strategy. That said, we're always happy to guide you through a restructure of your approach, to keep you from overstressing the system, and make sure you get the most out of your training.

You can access the series for a one-off cost of $139.99. The series includes 8 classes, ranging from 50-60 minutes each. We recommend completing one class per week. But as long as you have the control and quality of movement, you can complete the entire course in as little as 8 days. Just note that the series isn't designed to be used vigorously. It's a developmental programme, here to help you improve your current situation.

Even though there are 8 classes (equivalent to 8 weeks of work) you'll have access to the content for a whole 12 weeks. This means you can go back for an extra month to practice, practice, practice.

If you have ongoing back issues or recently had a baby, this series would be ideal. That's because it starts from the absolute beginning, building your body up slowly over the course of the 8 weeks. That said, there are a few things to consider.

POST-BABY: With both natural and C-section births, we recommend waiting until you're a minimum of 9 -12 weeks postpartum. It's best to make sure you get clearance from your health practitioner to restart light exercise, too. And if you had a C-Section, make sure your scar has fully healed first.

BACK ISSUES: If you've recently undergone a surgical procedure, make sure you have clearance from your consultant to restart light exercise. Depending on their severity, conditions like spondylolisthesis, spondylolysis, or scoliosis may need a cautious approach. As always, check with your healthcare practitioner in the first instance.